Right now I'm a R2 builder and a second droid parts collector. I started collecting parts a while ago and now started to amass a decent second set. So its time to get to work on my second build. My second frame should be here within 30 days so time to get some parts or skins painted black. These resin pieces will go into R2-Q5. I'd like to bring 2 droids to Phoenix Comicon 2011and Droidcon and that means I gotta work my ass off. Because these painted black pieces you see are the first parts on my second droid that has to be completed in 3 months and 1 week!
Black front coin return (left) by power and copper power coupler (center) with a freshly painted coupler (right), one of the shoulder buttons painted copper (top). This copper color is just the match I want but the paint itself is tricky to apply. The button above wasn't primed, but this copper is so light. I had to put on 6 coats! With the black power couplers only 2 coats of copper were needed. That was weird! I test painted other parts with copper and it covers black the fasted. This is good to know as I have a more parts to paint in the future. One day this droid will look like this. (image credit rebel scum)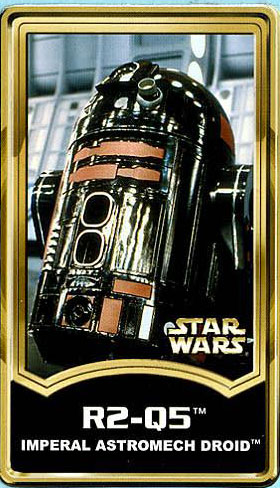 One thing my mind is working on is a solution to installing these parts on the skins in methods other than superglue and JB weld as I'm currently doing. I'd like to see a velcro or bolt on/off or magnet solution. This way you could easily unfasten these parts, change them out with various colored parts and make a new droid. That's hard when its all JB welded to hell and back. The idea in a perfect high tech world solution is superglue with nano negatively charged magnets you put on 1 part. Then superglue with positively charged nano magnets on the other parts. They'd bond together with no visible means microscopically. That most likely won't turn up in a google search yet. But some type of standard like David Shaw has should evolve so we can do this with future parts.
Here is the type of paint I'm using. Ace brand black semi gloss. No opinion yet as its my first can.
Krylon copper in the center. Works okay if you prime first or paint black. On the right is Rusteoleum white semi gloss. This is my 5th can! But I only used about 2 full can of those 5. It has a nice finish if you let it dry for two days. But out of 5 cans, 2 were DOA. Only 1 can I got to empty. The other 2 cans when they got half empty spitted out white blobs that wasn't cool on finish paint of expensive parts. I open new cans of white when putting on 'final' coats.
The results are really good with this white can but half of the cans are duds.
A lot of people ask how thick is that
VHB tape? Well here it is applied on my rear skin. When you sandwich the skins together you won't notice it at all. Keep in mind this isn't super glue. Its tape. It's merely a good method to mend most of your skins together in a first step. You'll need some other adhesive to weld together other parts of the skin that share more of the load these skins will take.
Here we go again with the clamps. I'm clamping the inner and outer rear skin. The full rear door was cut out a couple of months ago. That part of the build wasn't any fun so I finished the front. Now I'm completing the rear section. Tomorrow I'll take off the clamps and spot superglue any weak spots with the clamps.
Here I'm just goofing around going for a clamp record. If you don't know what that is you haven't surfed Astromech enough. You don't need to put this many clamps on. But how many times in your life are you going to clamp together R2-D2's skin? Have some fun with your expensive robot!